Order your church Print today. All proceeds go towards our 'Space 2 Grow' Re-ordering project.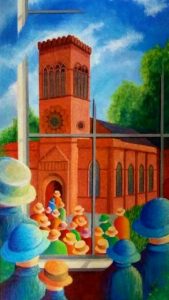 I want express my huge thanks to Tony Ellis for painting this image of St. Anne's in his own distinctive style. I'm sure you will agree it is a beautiful painting and there is so much to take from it. When I look at it, I see people making their way to worship with excitement, the community being drawn together, the Cross of Christ in the middle of everything – so hugely important! But that cross is also part of a window frame – A window speaks to me of looking on, it also speaks to me of the importance of welcoming and inviting people to join us, not to stay simply 'looking on' from behind the glass, we need to be with the crowds being drawn to Jesus otherwise we're missing out! I'm sure as you look at it you will see it in different ways at different times and seasons. It really is a work of art! (excuse the pun!)
The good news is that you don't just have to look at a photocopy on the front cover of the magazine, but you can order your own high quality print today. There are a number of different options available to you:
Option 1: A4 print in a card mount – £15
Option 2: A4 Print Framed – £25
Option 3: A3 Print in a card mount – £20
Option 4: A3 Print Framed – £35
All proceeds will go towards the 'Space 2 Grow' re-ordering project. To order your copy simply pop along to church and fill in the order form there, or download the order form at the bottom of this page,  fill in and return to the address on the bottom of the form . Payment is required upfront and cheques are made payable to 'St Anne's Building Fund'. Please note if we are required to post the print there is an additional £5 cost (per print) to be added for postage and packaging and we regret that we can only post options 1 & 3.
We hope you will take this opportunity to order this amazing print.